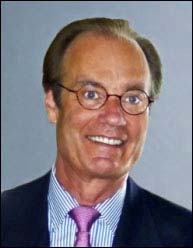 Balloon artist and impresario Treb Heining turned an unlikely skill and a daydream into a worldwide industry. While working as a balloon vendor at Disneyland at age 15, Treb discovered he was a wizard at tying balloons. He dreamed of turning his unusual talent into a career and the results have dazzled millions of people around the world for the past 40 years.
As the originator of balloon ?d?cor,? Treb?s work still sets the industry benchmark.? He has created dozens of now common effects and products that people take for granted, including balloon arches, columns, lettering, sculptures and more.? And, in a return to his roots, Treb invented the most popular balloon in the world, the magical Mickey Mouse ?Balloon within a Balloon? that is ubiquitous at Disney parks.
No challenge has ever been too great for Treb and his philosophy of
"Ya know what we could do…" has resulted in breathtaking spectaculars that push the boundaries of size, shape and number of balloons used.? Here are just a few highlights of his amazing career:
Treb?s signature balloon art has helped create the festive atmosphere at 16 NFL Super Bowl extravaganzas and set the tone at U.S. national political conventions every year since 1988 ? along with two Presidential Inaugurations
Treb helped launch the 1984 Olympics in Los Angeles, and commemorated the 200th Anniversary of the U.S. Constitution with a 50 x 100 foot American flag at Philadelphia?s Independence Hall
Disney has always had special meaning for Treb, and the numerous spectaculars he created on their behalf included making one million balloons for the 84th Walt Disney birthday celebration
Treb invented the balloon arch that symbolizes

the emotional finish line of marathons and running events around the world
And, beyond balloons, 2011 will be Heining?s 20th year to reign as Times Square ?Confetti King,? responsible for dropping upwards of 3,000 pounds of confetti on New Year?s Eve
Now, Heining is orchestrating the U.S. launch of MyOwnPet Balloons?, the first-of-their ?breed? menagerie of balloon animals that can gallop, walk and hop thanks to a special weighted design keeps the pets grounded.? Stay tuned for more innovative products and fresh ideas from Heining who is always on the lookout for new ways to captivate audiences with balloon artistry.
Below is an array of Treb's career works: