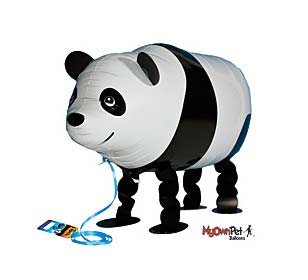 Panda Bear
COUNTRY OF ORIGIN: China
PERSONALITY: Loyal, alert and fun-loving
SIZE: Up to 6 feet long and 330 pounds.
LIKES: Bamboo, and lots of it.
FAVORITE THING TO SAY: Oh shoot!
Panda Bear Tales
I?m a Panda, and I come from the mountain forests of China. See my black and white fur?
Unlike other bears, I don?t hibernate and don?t really like meat either. But I can eat up to 40 pounds of bamboo every day.?Yum!
Wild Pandas live alone, but I like to be around you. There are not as many of us as there used to be, so take good care of me!