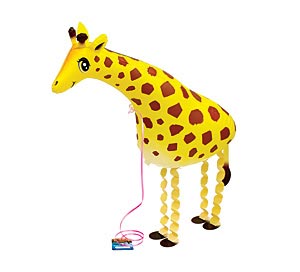 Giraffe
COUNTRY OF ORIGIN: Africa
PERSONALITY: Graceful, elegant, confident
SIZE: Up to 2,000 pounds
DISLIKES: Sore throats
FAVORITE THING TO SAY: Let?s neck!
Giraffe Tales
I am a Giraffe, the tallest land mammal on earth. I have a long neck, and even longer legs that can run fast, but I usually take my time. Sometimes that causes ?giraffic jams!?
I can reach up really high to eat leaves from a tree, and I can see far, far away to watch out for danger or find my friends.
Let's go look for new adventures together!