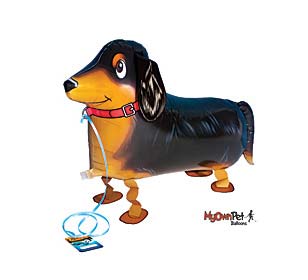 Dachshund
COUNTRY OF ORIGIN: Germany
PERSONALITY: Clever and courageous
SIZE: Fully grown from 11 lbs
LIKES: To chase balls, and YOU
FAVORITE THING TO SAY: Hot Dog!
Dog Tales
I am a Dachshund, a hunting dog that was bred to chase badgers right down into their underground dens. That?s why my body is so long and skinny!
Some people call me a ?weiner dog? because of my special shape, but I like it best when you call me ?yours.? I?m very loyal and have a lot to say.? Let?s go for a walk and I?ll tell you how much I love you.