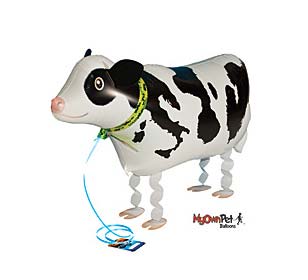 Cow
COUNTRY OF ORIGIN: Europe
PERSONALITY: Calm, quiet, friendly
SIZE: Fully grown at 1500 pounds
LIKES: To play ?peek-a-moo?
FAVORITE THING TO SAY: Holy Cow!
Cow Tales
I am a Dairy Cow, raised for my fresh healthy milk that you can drink or turn into yummy things like butter, cheese and ice cream.
Once upon a time, nearly every family had their own cow (and now you can too).
I eat grass, hay, alfalfa and corn, and love it when you take me out for a walk in the yard.? Let?s mooove it!