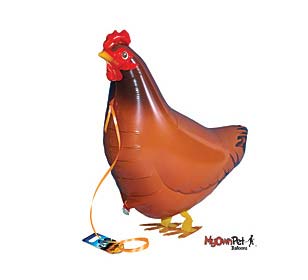 Chicken
COUNTRY OF ORIGIN: India
PERSONALITY: Plucky
SIZE: 2 to 5 pounds
LIKES: Eggciting eggsperiences
FAVORITE THING TO SAY: Chicks rule!
Chicken Tales
I am a Chicken. There are over 24 billion of me, which means there are more chickens around the world than any other kind of bird. I can lay up to 300 eggs a year, and can fly a little bit but not very far.
A girl chicken is called a hen, and a boy chicken is called a rooster. Hens say cluck, and roosters say cock-a-doodle-doo. That means I love you.